Voting Information
Election Info....Your VOTE is your VOICE!
Are you registered to VOTE?
Voter Information
--------------------------------------------------
2020 Federal, State, and Local Elections
Early Voting for the 2020 Federal, State, and Local Elections
has begun and runs through October 30
During this election you will vote to select major party candidates
and propositions for several school district, county, statewide races,
and legislative seats, as well as President of the United States of America.
Tuesday, October 13
- Friday, October 30
Election Day is Tuesday, November 3
During Early Voting you may vote at any early voting location.
Use this link to see a listing of all voting locations
and their times of operations:
In addition, you can look up your voter registration information
and get an individual sample ballot by following the
directions at this link to the Bexar County Elections website:
When you go vote, don't forget to bring a valid photo ID,
options include your Texas Drivers License,
US passport, US military ID card with photo,
US Citizen certificate with photo,
Texas handgun license, and Texas personal identification card.
*All voting sites require you to wear a mask inside the site building and they will be exercising social distancing. *
Do you want to see what will be on your ballot and see detailed information on the races/initiatives before you head to the polls? Go to
https://onyourballot.vote411.org/
.
and enter your address.
The San Antonio Apartment Association supports the following
candidates for the Texas House of Representatives and Texas Senate:
Texas House District (HD)
HD 44 – John Kuempel (Seguin)
HD 53 – Andrew Murr (Junction)
HD 80 – Tracy King (Uvalde)
HD 116 – Trey Martinez-Fischer (San Antonio)
HD 117 – Philip Cortez (San Antonio)
HD 118 – Leo Pacheco (San Antonio)
HD 119 - Liz Campos (San Antonio)
HD 120 – Barbara Gervin-Hawkins (San Antonio)
HD 121 – Steve Allison (San Antonio)
HD 122 – Lyle Larson (San Antonio)
HD 123 – Diego Bernal (San Antonio)
HD 124 – Ina Minjarez (San Antonio)
HD 125 – Ray Lopez (San Antonio)
Texas Senate District (SD)
SD 26 – Jose Menendez (San Antonio)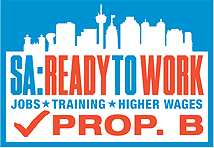 If you are a resident of the City of San Antonio, you will also be given the choice to vote on several propositions
The San Antonio Apartment Association endorses
Proposition B – SA: Ready to Work ballot initiative.
Under Proposition B, the City would use the 1/8 cent of the current sales tax through Dec. 31, 2025 to fund a workforce training and education program that it estimates will help about 40,000 people, especially those who have lost their jobs, or otherwise been negatively impacted, due to the COVID-19 pandemic,
get better paying jobs and help break cycles of poverty.