Renter Resources
Texas Rent Relief:
The Texas Rent Relief Program is here to help. https://texasrentrelief.com/
COVID-19 has affected Texans across the state. We have emergency funds available to help Texas renters pay rent and utility bills (including past due rent and utilities).

Both landlords and tenants can use this website to create an account and submit their application. If you need assistance completing an application, our customer service staff can complete the application with you by phone by calling 1-833-9TX-RENT (1-833-989-7368).
The Texas Rent Relief Program can help renters with the following costs starting as far back as March 13, 2020 (this means you could potentially request assistance for up to 11 months of past due bills):
Past due, current and up to 3 months of expected rent costs
Past due, current or up to 3 months of expected utility and home energy expenses
After the initial 3 months of forward assistance, you can apply for 3 additional months of assistance if funds are still available
Renter Resources: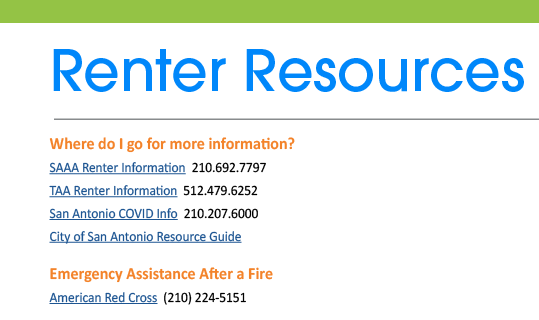 If you are looking for resources, please download our
Renter Resource Document HERE
It includes contacts of local groups that may offer assistance and be able to help!

Find housing and rent assistance: Whether in a crisis, a disaster, or a pandemic, 2-1-1 is here to help every person in any community find food, rent and utility assistance, and connect to other essential services. That includes making hundreds of thousands of connections to address and prevent homelessness and housing insecurity. United Way Help Line: 2-1-1
Information for Texas Renters...
The Texas Apartment Association promotes high professional standards for the rental housing industry, that benefits renters, too.
vexas Apartment Association is the leading association in the state representing rental property owners and operators. Since 1963, we have worked with our members to promote high professional standards, fair legislation and a healthy and competitive rental market that meets the rental housing needs of all Texans.
Our members are rental housing owners, builders, developers, property management firms and companies that supply products or services to rental properties. TAA members must follow the association's Code of Ethics, and as a membership benefit, they have access to our lease contracts and forms that are regularly updated to comply with state and federal law.
Do you have a problem?
If you are a renter and you have a problem, we want to help you find resources in your area that can assist you. Unfortunately, we are not able to personally answer your questions or reply to inquiries about specific situations.
We're not qualified to give you legal advice. If you need legal help, we encourage you to check with an attorney or look for legal resources in your area. You might also find answers to your questions on our Helpful Info for Renters page.
Click here for additional information on the Texas Apartment Association website: Renters Information
Parenting Resource
Every family needs support sometimes! Thanks to the City of San Antonio Metropolitan Health District, the San Antonio Area Foundation, and United Way, Bexar County families, (grand)parents and caregivers can get free Triple P.
We all want our kids to be happy and healthy, and ready to succeed in life. But how can you know you're doing the best thing? And what if you'd like to know more about how to deal with common issues? Read more